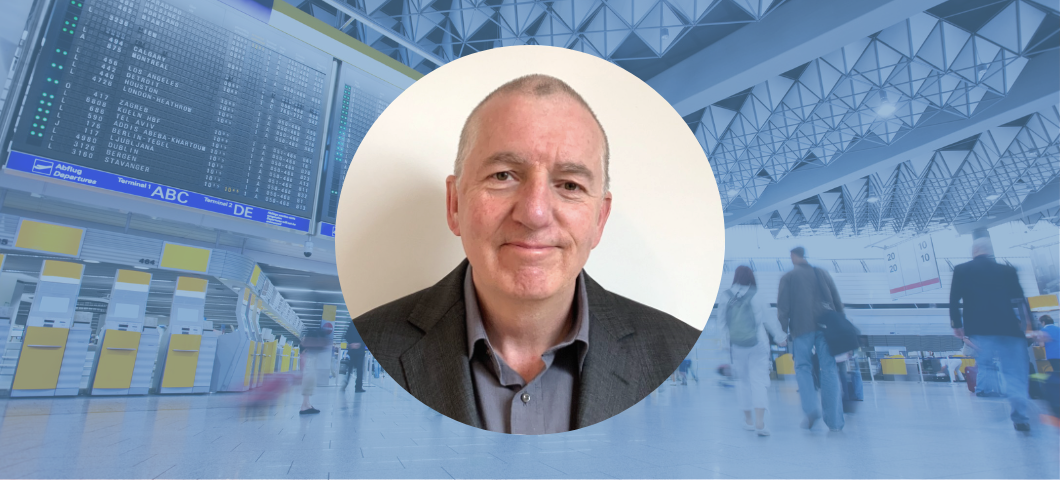 The Five Minute Feature: John Strickland
With over 40 years' experience in the aviation industry, John Strickland probably doesn't need an introduction. He is known and respected for his unparalleled knowledge of the market. This year, John is coming back as the Chair of the ACI EUROPE Regional Airports Conference & Exhibition. In this edition of the Five Minute Feature, he shares his key highlights ahead of this flagship regional airport gathering in Chania at the end of April.
---
How would you describe the ACI EUROPE Regional Airports Conference and Exhibition to someone who has never attended before? What is unique about it?
The event is a very focussed opportunity for regional airports, which themselves are a broad church, to get together and share their experiences, something which is even more important this year as the post Covid recovery continues and after a bruising year in 2022 with resource challenges and numerous flight disruptions. I like the intimacy which the smaller event offers, making it easier to catch up with fellow delegates.
You have attended and chaired the Conference in the past, notably the last edition before the pandemic struck that took place in Krakow. Do you expect a different energy/vibe this time around?
I think we will see a greater sense of optimism and rejuvenation after the intense challenges of the last few years. There will be a sense of happiness for people to be back together again, to share experiences and learnings as we look to a hopefully much brighter summer ahead.
According to you, what will be the hottest topic(s) among Europe's regional aviation community gathered in Chania this April?
Inevitably manpower will be a key talking point as all parts of the industry seek to restore a high level of operational reliability and address the challenge of a loss of experience in many areas. Reflection on the weak economic outlook and the impact of the continuing Ukraine war will also be top of people's minds as will the industry's efforts to deliver a sustainable future.
As the Conference Chair you are probably not allowed to have favourites, but with a delegate lens on for a split second, which sessions would you be looking forward to the most?
We are in challenging times so hearing from a variety of leaders in the "view from the top" session is going to be particularly interesting and valuable.
How can delegates make the most of their time in Chania?
The real joy and value of the event is to meet with colleagues outside of the formal agenda to renew friendships, meet new colleagues and share experiences. All of this will be made much more easy by being in such a beautiful setting.
What do you make of the brand new addition to the Conference format – the three deep-dive workshops on Innovation, Route Development and Employment? Do you think they will catch on?
All three topics are of the utmost importance, now more than ever there is a need to innovate and to embrace rapid changes in technology, route development, which is close to my heart, is as competitive as ever and the airline landscape is changing. Employment too has to be top of mind as the industry seeks to recover not only total manpower but also experience and reflect on how it can attract a sufficient calibre of people to follow their careers in aviation.
And finishing on a more leisurely note, what's on your bucket list of things to do or places to visit while in Crete? Have you been to the island before?
I haven't been to Crete for almost 40 years ! I'm sure the island has changed but its beauty remains, I've never been to Chania and there's much that's new to discover for me!
You can find all the information about the RACE programme and registration here.
---
John Strickland is a graduate of the University of York and has over 40 years of experience in the airline industry, specialising in network planning and revenue management. He has held senior positions with a number of airlines including British Caledonian, British Airways, KLMuk and Buzz. His experience spans all the major airline business models.
London based JLS Consulting, of which he is Director, was established in 2003, an air transport consultancy which provides strategic insight and advisory services for clients including airports, airlines, and investors.
John provides expert independent business and financial commentary on the sector for leading global media including the BBC, Sky, Bloomberg and CNN. He is a regular conference chair and moderator at industry events, frequently interviewing leading senior executives.
John is also visiting professor in airline business strategy at Coventry University and a visiting fellow at Cranfield University.