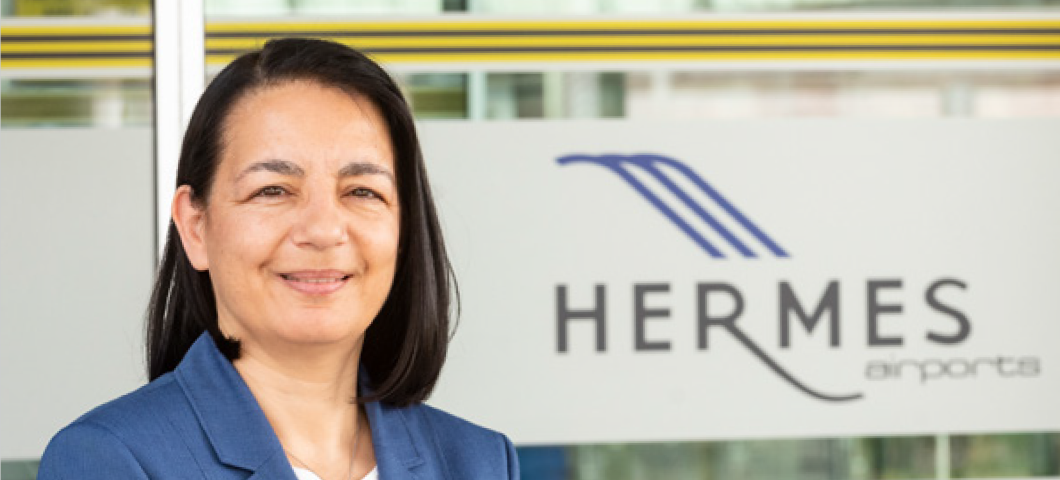 Restart, restore, reimagine…airports on the road to recovery
By Eleni Kaloyirou, Chief Executive Officer, Hermes Airports Ltd
ACI EUROPE's State of the Industry address, traditionally delivered by Director General Olivier Jankovec at the association's Annual Congress, is without a doubt one of the significant moments in the aviation calendar. It's an immersive experience in the very latest industry data, along with emerging trends and forecasts. It often also combines the annual Connectivity Report, and updates on the global Airport Carbon Accreditation Programme. It is a content rich production which warrants inward digestion, thought and reflection.
Watching Olivier's presentation at the event in Geneva just a few weeks ago, I found myself wearing three different hats. I'm the CEO of an airport management company. I'm a member of the Board of ACI EUROPE. And I'm the inhabitant of a Mediterranean island country whose economy and society has an acute interest in both aspects of the 'travel and tourism' discussion.
So, what exactly is the State of our Industry? The immediate and longer term outlook for ACI EUROPE's 500 strong airport membership can of course only be realistically viewed through the prism of the COVID-19 crisis. The financial and operational challenges which airports faced, and will continue to face for many months and years to come, are daunting to say the very least. The figures revealed in the State of the Industry show a systemic financial weakness with many of Europe's airports set to post massive losses again. Total revenues for the first half of 2021 were even lower than in 2020 compared to the first half of 2019 (-65% vs -52% in H1 2020), with EBITDA following a similar trend (down -121% compared to pre-pandemic levels).
The inescapable reality is that airports are facing an investment crunch, with a pressing need to digitalise and decarbonise as well as address issues of capacity. Moving forward on this basis from a position of heavy losses and debt is of course far from ideal. We're expecting to be dealing with a new market structure as we emerge out the other side of the worst of the pandemic – an acceleration of existing trends and imperatives. We anticipate an inevitable consolidation of airlines which will in turn place unprecedented competitive pressure on Europe's airports. These market developments will be combined with our decarbonisation imperative, leading to a squeezing of revenues and slowing of growth.
But these challenges do not mean that we are without a plan. Far from it. What we will see as we go forward is an adaptation and as far as possible a future-proofing of our business models. The key words here will be transformation, de-risking and resilience. So what will this look like in practice?
The first pillar of this will be the now familiar mantra of 'build back better', and everything that entails as we move towards sustainable and green airports. The idea of airports reducing the emissions which are under our control is nothing new; it's over a decade since Europe's airports made a resolution to begin working on emissions reductions, and in 2019 we set the collective European goal of reaching Net Zero emissions by 2050. Our own airports in Paphos and Larnaca have been accredited under the global Airport Carbon Accreditation programme for several years now. Moving forward the airport industry's focus will be more closely than ever on the need to support and facilitate the decarbonisation of the wider aviation sector.
The second of the pillars in crafting our reimagined sector will be actually delivering it better. What do we mean by this? Digitalisation is another area which, already in development, has been dramatically accelerated by the contactless and virtual needs generated by the pandemic. This is just the start, a stepping stone into the hyper-efficient and automated operations that must lie ahead. These are of course important developments for our passengers, partners and communities to look forward to.
In our third pillar we must address the need to safeguard our ability to generate revenue, both aeronautical and non-aeronautical. The efforts of our trade association in representing our interests towards the European institutions, our policy makers and our regulators, is a crucial part of this. But so is our reinvention, creating compelling refreshing experiences for our passengers, which brings us back once again to the investment question. At Larnaca Airport we have just unveiled a redesigned commercial area – 20 months in the making and not an easy feat given the timeline at the height of the pandemic. The end result – improved passenger flow alongside a great travel experience, has a distinctly local sense of place alongside a cosmopolitan look and feel.
One of the biggest take-outs from the ACI EUROPE Annual Congress for me was the pragmatism and determination of the airport community. A mood of cautious optimism prevailed, as so much of the short term is out of our hands. The epidemiological situation and Governmental approaches to vaccination and to travel regimes will be key factors dictating the pace of our recovery. But we are a resilient industry with a shrewd eye on the desirability of the reimagined airport of the future for passengers, business, and society alike. I for one am looking forward to the longer-term reimagining of airports and aviation, and I do so wearing all three of my hats.