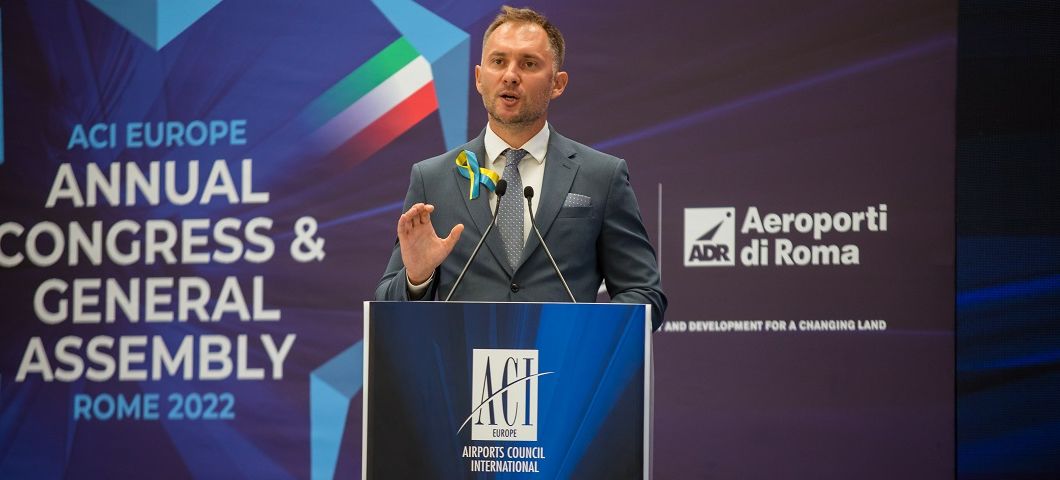 The Five Minute Feature: UKRAINIAN AIRPORTS' LIFE: WAR SCENARIO
By Dr. Vyacheslav Cheglatonyev, CCO Odesa Airport, Ukraine
International… Human… Mobility…
International Human Mobility is an inalienable human right throughout the civilised world.
Yet, since February 24th Ukraine has been deprived of the right to international human mobility by a brutal and barbaric full-scale war started by Russian invaders.
The consequences of war for a global aviation system
Firstly, today there is a huge aviation gap over the territories of Ukraine and over the aggressor countries – Russia and Belarus – caused both by the war on Ukrainian territory and by the effective sanctions and bans now in force. Almost all European carriers have to reroute their flights significantly.
A second significant outcome of the war impacting aviation: a sudden and huge spike in fuel prices. As of today, the current price is 153USD per barrel. By contrast, IATA in its industry forecast for 2022 planned a jet fuel price at 78USD per barrel as 20 per cent of cost. As a direct and immediate result – today we have longer routes, coupled with rising aviation costs.
The consequences of war for Ukrainian airports
Ukrainian airports before the full-scale war
There were close to 50 airports and airfields across Ukraine, 17 of them with existing traffic in 2019.
The biggest and the most ambitious infrastructure development programme in Europe was in Ukraine – "the Big Construction" programme initiated by President Volodymyr Zelensky in 2018. The aviation sector was the central player in this ambitious project.
According to EUROCONTROL statistics in 2021, Ukraine and its airports were in the top 5 of their Covid-19 recovery rating.
On the 12th of October 2021, Ukrainian airports received a significant accolade from the European Union – after 8 years of waiting Ukraine was approved to join the Single European Union aviation market. As a result, major European carriers announced upcoming expansion to Ukraine and its airports.
What is the current state of Ukrainian airports?
All Ukrainian critical infrastructure which ensures international human mobility – including airports – has been heavily targeted by Russian bombs and missiles since the beginning of the invasion. As a result, today all Ukrainian airports have been fully or partially destroyed by Russian invaders.
As of the 8th of June, the Ministry of Economy and Kyiv School of Economics estimated the Ukraine`s overall economic losses due to the war at $600 billion. The total amount of direct damage of infrastructure is $104 billion and direct damage caused to Ukrainian aviation is $7.6 billion.
But these losses are nothing… NOTHING compared to the loss of 339 Ukrainian children killed by Russian invaders… Or compared to 13 million broken lives of Ukrainian refugees who have fled their homes due to the war.
Odesa Airport: an interrupted success story
Odesa Airport is one of the largest airports in Ukraine with the catchment area of 4 million people.
The vision of Odesa airport was and still is:
To become the best regional airport in Eastern Europe in charge of passenger service quality, along with operational and financial efficiency.

Our mission is:
To create comfort space for our passengers, airlines, partners and employees while providing a high level of safety and service. We work to our principle of «Cozy like at Mama's home», reflected through everything we do.
Odesa airport was attacked by Russian missiles several times, beginning at 4:00 AM on the 24th of February. It is impossible to predict what Odesa Airport will be after the war is over. But what we do know is that before full-scale war, Odesa Airport was the most modern, safe and comfortable aerodrome complex in Ukraine, following the recent creation of a brand-new infrastructure, including:
Our new terminal was launched in February, 2020 with a capacity of 4.5 million passengers per year.
Our new apron was launched in June, 2021.
Our new runway was launched In July 2021, with a length of 2.800 m, category ICAO IIIA – with all weather conditions capability.
In 2021 passenger traffic was 1.3 million passengers, and recovery rate to 2019 was 78%. In Q4 2021, flight numbers were +10% compared to the volumes of 2019. There were 45 direct international and domestic routes.
2021 was recognised as a year of commercial successes for Odesa Airport: 23 new routes were launched; 5 new airlines were signed – among them the World Best Airline by Skytrax Qatar Airways; and a long-term cooperation with the world`s largest duty-free operator – Dufry – began.
As a result of all these achievements and records in 2021, Odesa Airport was awarded the Best Infrastructural Project of Ukraine and Best Regional Airport.
In the meantime, in 2021 the masterplan Odesa Airport-2050 was developed and approved. Plans of Odesa airport were ambitious but realistic – and the future seemed to us to be bright and limitless. These plans have been crushed by Russian bombs and missiles.
How to build back Ukrainian aviation and Ukrainian airports
The restoration of Ukraine and its economy after our victory is impossible without restoring Ukrainian aviation and Ukrainian Airports. One of the main priorities definitely must be ensuring international human mobility, and air mobility in particular, in order to bring back home those 13 million Ukrainians who have fled their homes due to the war.
Obviously, we should consider aviation as a whole ecosystem entirely – including airports, airlines, ANSPs and all the other contributors to a global aviation value chain. Aviation starts from safety – so, firstly, we must restore the sovereignty of Ukraine and its air sovereignty, rebuild air navigation systems and ensure aviation safety.
Secondly, we, as airports, must build back our infrastructure and restore capacity.
Thirdly, we must renew all the necessary certificates and licenses.
Finally, we must restore air connectivity with all the civilised world.
In order to take these vital four steps we will need the help and support of the united aviation community.
Glory to Ukraine! Слава Україні!!!
Find Vyacheslav's presentation held during our ACI EUROPE 32nd Annual Congress & General Assembly here.