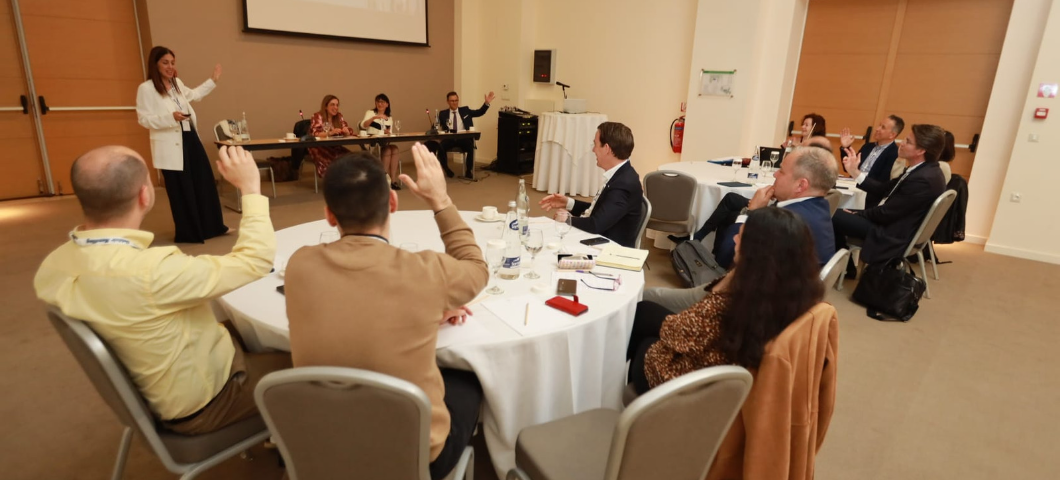 NEW: RACE WORKSHOPS PACK A PUNCH WITH INDUSTRY KNOW-HOW AND BEST PRACTICE
This year's ACI EUROPE Regional Airports Conference and Exhibition introduced a new format: three deep-dive interactive sessions on key current challenges for the regional airport community. Our team prepared bitesize takeaways summing up each of the sessions for readers of Airport: The Bulletin.
The sessions were held under Chatham House Rules and have been written up accordingly.
Key take-outs from the INNOVATION WORKSHOP
SESAR 3 JU & Regional airports – a dream team
Any existing barriers should be removed for regional airports to get more involved with SESAR 3 JU: their solutions have the potential to both cut costs and optimise operations for regional players. Key solutions include: A-CDM and Total Airport Management, remote and digital towers, low-cost surface management and airport safety nets, enhanced approach procedures and enhanced vision systems onboard aircraft.
Regional airports can also contribute to the development of a number of flagship SESAR projects, including multimodality, automation, aircraft integration, and more. They can do so by taking part in SESAR's call for proposals, and by influencing the European ATM Master Plan. The latter is updated every 4-5 years and will be again reopened this autumn. The bottom line: regional airports are very welcome participants and members in SESAR.
Spotlight: Remote towers unlocked
Remote towers are the next evolution in Air Traffic Management, and there's a great business case for this solution for regional airports challenged by finite possibilities on the ground.
First things first: of course, the key argument that needs to be carefully reported on when developing the case for a remote tower is safety. Safety and security, training and deployment are core to the dialogue with authorities, and are the starting points for the development strategy.
The main benefits? From an air traffic controller perspective, the entire airfield is now visible, without the limitations presented by a legacy ATC tower. The cameras replace binoculars, the air traffic controllers can zoom in on anything on the airfield and have data overlaid, with aircraft call signs, distance between the aircraft and more. The working environment is much more adapted and richer for the people working in a remote tower.
Looking further in the future, deploying a remote centre unlocks the possibility of creating multicentres. A concept where one centre can manage airspace of multiple aerodromes. This will also ease the burden of seasonality on regional airports and provide other benefits for network management. For now, there are still some, mostly regulatory, obstacles to get us there.
Innovation trends for aviation
Today's technology trends include autonomous vehicles and robotics, biometrics and digital identity, Digital Twins, VR/AR & AI/Chat GPT, Digital Apron & Remote Towers. As a result…airports in the future will be highly automated, highly connected, green, and could even 'think' for themselves.
At the same time, there are of course many challenges related to the accelerated access to data and other innovations, including cybersecurity risks, integration and interoperability, digital ethics and synchronisation. Getting the balance right between the acceleration and the risks and integrations is still something we're grappling with.
Vertiports – the aviation revolution
Infrastructure will be key in deploying Advanced Air Mobility, and providing a satisfactory passenger experience. There are currently 300 eVTOL aircraft in development across the world, so this sector is set to grow very fast. The infrastructure will have to be technology agnostic and able to welcome all aircraft in development.
Main challenges for Advanced Air Mobility are aeronautical, operational and integration-related. AAM is in its nature short-distance and will mostly be deployed in densely populated areas. This creates a need for the infrastructure and the operations to be equally embedded in and respectful of the city infrastructure.
ACI EUROPE Innovation Forum launched
Answering the need for collaborative approaches, an Innovation Forum was set up by ACI EUROPE this year to foster collaboration between airports using innovation as a lever. This working group has set itself three main objectives: to enhance customer experience, be more efficient and more sustainable, to share experience and best practice and promote and push together for changes in the sector.
The group will also identify and address policy, regulatory and funding gaps and shortcomings. Main topics of interest will include: European framework, SESAR JU, regulatory gaps, innovation strategies, innovative projects, trend technologies, innovations tools, startups accelerators and innovation culture.
ROUTE DEVELOPMENT WORKSHOP
Embrace the new era of airport network development or be left behind. Airports must re-evaluate the data that they use, the way they think about markets, and the partnerships that they have with airlines, tourism sector and business to maintain and grow their airline customer base.
Airport route development has evolved over the years, from the "PR" phase in the late 90s to the route development phase of the mid 2000s focused on incentives, and into a third phase of business development where airports presented comprehensive business cases to airlines to persuade them to fly to airports. Since 2015, airports have been in the "market development" phase where working with airlines they sought not just to stimulate existing markets, but to generate entire new markets of travellers. Post-Covid-19, airport route development is in a transition towards Marketing 4.0.
The key questions for airport managers and strategists relate to changes in the market, which is now more heavily weighted towards leisure travellers and visiting family, relatives and friends, with a smaller share of business travellers. New aircraft entering the market have also made thin long-haul routes possible. And airline consolidation means that airports risk being dominated by 1 or 2 low-cost carriers who can exert enormous pressure on airport charges.
During the workshop three airports shared their practical experiences. One case study demonstrated how a regional airport attracted a wider array of hub-and-spoke carriers, with connections into their hubs. Another airport explained how it partnered with a low-cost carrier to target a large diaspora population, and grew traffic by 100% over 2019 levels. And a third airport discussed the approach to building new leisure routes and counter-balancing seasonality.
Airports success in the coming years will depend in no small part on their business strategy, their pricing policies and their partnerships across the value chain – and taking concrete actions to deliver the low-carbon transition at the same time.
HR, EMPLOYMENT AND SOCIAL DIALOGUE WORKSHOP
A holistic approach is required to manage employee experience, which cannot be separated from customer experience, all coming back to people's satisfaction; this strategy needs to be communicated to all stakeholders.
The notion of airport culture is essential, defining a collaborative framework in which employees can share the various perceptions about their interactions with the organisation, nurturing their empowerment, loyalty and engagement.
Growth opportunities in a company are an investment for employee retention and should not be set aside in challenging times. All airport employees, whether directly employed by the airport operator or sub-contracted, should be considered part of the team, a community seeking an alignment of HR strategies and defining common objectives.
Airports are perceived to be too structured and need to adapt to attract the workforce, that spreads over four generations, all sharing the same basic values, such as being respected, enjoying meaningful work and having access to effective communication.
Companies can develop a sense of resilience, prospering in high stress environments instead of suffering; this is a collaborative journey involving all employees, integrating the values of integrity, respect, competence, creativity and passion.
Dialogue with local and national trade unions is to be maintained at all times; collective agreements need to answer employees' needs.
Not everything can be achieved all at once; agility means managing priorities.