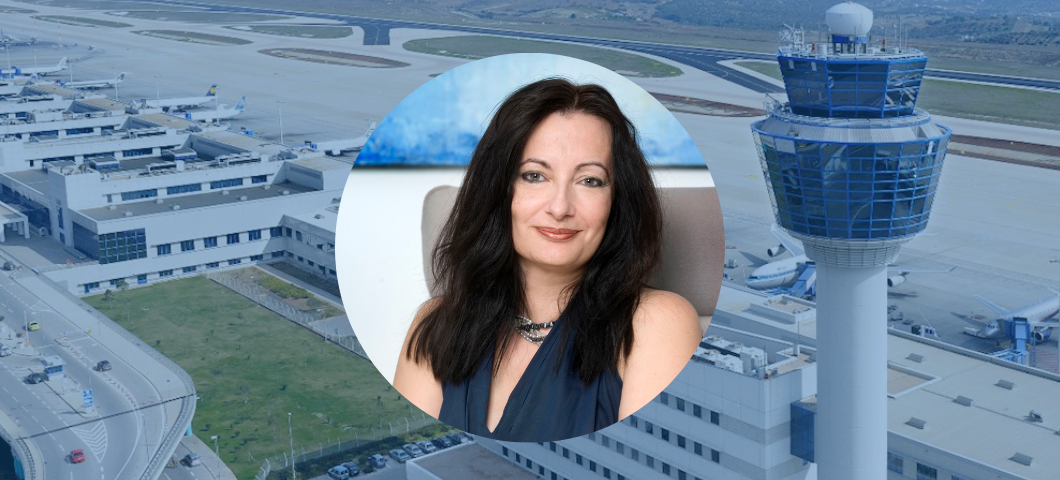 Five Minute Feature: Ioanna Papadopoulou
Our special guest this month is Ioanna Papadopoulou, Director of Communications & Marketing at Athens International Airport. Fresh from Routes Europe 2023 in Lodz, we talked all things airline marketing, and the fact that she picked up a rather special award whilst she was there….
First off, congratulations on your Routes Europe 2023 Award! It's a well-deserved recognition for your long-standing leadership position in route development. What's your recipe for such astounding marketing success?
Indeed, we are truly excited with the spectacular first place in the highly competitive Routes Europe awards, and we also feel deeply honoured, as this is a distinction that comes directly from the airlines, recognising on the one hand our continuous, developmental actions which took place during the restart of our industry and our market, and on the other hand rewarding our strategy and our actions for our airlines' promotion and their development in the Athenian market.
Looking for a "winning recipe", I would say that success is a two-fold formula. Firstly, it is our people, an exceptional team where each member's skills and character perfectly complement each other, and I would like once again to extend a sincere 'thank you' to my colleagues in the airline marketing team for a truly professional effort with an excellent result!
Secondly, from the start, we handled our airlines more as persons, as individuals, with unique personalities, characters, needs and wants! Every year, we strive to build meaningful, lasting relationships with them, we listen attentively to their expectations in order to develop in our market, and then we offer the best we can, using our market survey findings and data, as well as our tailor-made marketing strategy, fully equipped with innovative incentives and a strong marketing toolkit.
Athens Airport has played a pivotal role in creating the conditions for Greece to become the first country in Europe to bring back its air connectivity levels to where they were before the pandemic struck. Greece achieved this in 2021. What were the key factors in this success?
The recovery of air connectivity in Greece at a very early stage in comparison with other markets was indeed spectacular but it was not a random result – it was driven by several factors, mainly being the outcome of concerted actions by the public and the private sectors, as well as all stakeholders involved. There was a coordinated national response during the pandemic, establishing at a very early stage all the necessary Health and Safety procedures and processes, as well as all Health and Safety Protocols across the tourism sector.
Additionally, a nationwide scheme for job protection was established, the "Syn-ergasia" programme, since the first days of the pandemic; the fact that the jobs were secured was crucial, because when the restart phase began the entire tourism value chain was well prepared to cope with the increased demand.
Finally, there was consistency and commitment regarding the reopening of the market, a fact which was very important for the airlines' and the travelling public's planning ahead.
At the airport, since the first days of the pandemic, a response mechanism was established, the "Emergency Response Team for COVID-19" – EreTeCo, which continued up to the end of 2022 to focus on business-critical activities and service areas, successfully handling AIA's essential operational functions, with appropriate stakeholders' engagement, the dedication of staff and effective communication.
There was also very close cooperation with all tourism stakeholders for the launch of the "Love, Athens" campaign. This emotional campaign, where Athens as a person was longing to welcome its visitors back, mainly aimed at keeping well into the minds and the hearts of the public the awareness for Athens as a "wanted and desired" destination, the first to be visited as soon as the travel restrictions were lifted.
So, to answer your question, I would say: concerted actions and commitment of all parties were the key factors in this successful outcome.
Athens Airport has invested 23 million euros in sustainability and developmental incentives, which benefit almost all its airlines. Could you describe in a bit more detail what incentives have you put in place?
In line with the Athens International Airport risk-sharing strategy and integrated marketing approach, a number of incentives and marketing actions are available for the airlines operating to/from the Athens market, designed to cover all possible route developments, offering to our airlines a multi-layer coverage. The incentive schemes and marketing support offered are highly sophisticated, mostly 3-year schemes, offering discounts both on aircraft-related as well as on passenger-related charges.
The scheme comprises developmental and targeted incentives, 14 elements in total; during the pandemic, we also introduced the restart incentive, aiming at actively encouraging the rebound of international capacity.
In simple terms, the message we are trying to convey to our airlines through this comprehensive, multi-layered scheme is: Whatever the operation you are having to / from Athens, "We have you covered".
Could you tell us a bit more about your expansion in terms of new airlines and new routes in the past year? Which new airline partners have come on board and which new destinations are now available out of Athens?
In 2022, Athens enjoyed significant new developments: we welcomed 7 new destinations and 5 new airlines in 2022 compared to 2019. New destinations include Bilbao by Aegean and Volotea, Birmingham by Jet2.com, Boston by Delta Airlines, Florence by Aegean, Leipzig by Condor, Nis by Air Serbia and Turin by Volotea. We also welcomed Air Albania, Bluebird, Condor, Flyr and Jet2.com on board. Athens' connectivity was further enhanced with a substantial number of additional frequencies and services and we enjoyed almost all-year round operations by Delta on the JFK-ATH route.
All in all, in 2022 Athens was connected to 50 countries and 154 destinations, with a total of 296 services on offer and 66 airlines offering scheduled passenger services, including 25 LCCs.
For 2023 so far, network developments include 13 new destinations, 3 new airlines and a substantial number of additional frequencies and services, compared to 2019. New destinations include Baku, Benghazi, Bratislava, Cagliari, Dammam, Kalamata, Keflavik, Kuwait, Ljubljana, Newcastle, Olbia, Palma de Mallorca and Seville, and the "new kids on the block" are Korean Air with a series of charter flights on the Seoul-Athens route, Marathon Airlines, Play and Kuwait Airways.
Has the competition between airports, especially at Routes events, increased in recent years?
As much as airports "flock" together, side by side, as industry partners in the good and bad times, at the same time, they harshly compete when it comes to the securing of new routes, destinations and airlines.
We compete as integral parts of the destinations we serve, on all aspects of our route development business through price (charges' price list, incentives, risk-sharing mechanisms), product (capacity, operational readiness, services offered), place (attractiveness of the destination we serve) and promotion (airport/airline marketing and destination marketing campaigns and activities).
The full spectrum of the competition among airports can easily be seen during the Routes events, where the meetings with the airlines are full-day, back-to-back and very intense, aiming at showcasing the destination we serve and our airport business strategy in order to attract airlines and secure new routes and destinations.
How long does it take to develop a new route? Could you walk us through the process, step by step?
Developing a new air service is a complex, multi-year, multi-step process. The timeline can vary from 2 to 4 years, depending on factors such as the airline's developmental strategy, aircraft availability, competing routes and markets, the airports' size and location (i.e. strength & city's attractiveness), regulatory requirements, the general geopolitical status and stakeholders' cooperation.
And it is a highly competitive process, too; in most cases, other airports/destinations are also striving to secure the same air service, discussing with the same airline(s), at the same time.
The steps that are taken:
Market Analysis: The airport conducts a thorough market analysis to identify potential opportunities and "white spots" in the network. This includes evaluating passenger demand, taking into consideration macro- and micro-economic factors, travel patterns, demographics, and tourism potential. The analysis helps identify target markets and potential airlines to approach and serves as a sound basis for the discussion with the airline(s).
Route Planning: Based on the market analysis, the airport identifies specific routes that have the potential for new air service development. This involves considering factors such as destination popularity, passenger demand, market competition, and the airline's availability of appropriate aircraft for the route.
Airline Engagement: The airport engages with airlines to showcase the potential benefits of operating at the airport. This can involve attending industry conferences, networking events, and meetings with airline route planners or network development teams. The airport presents its market analysis, infrastructure capabilities, operational readiness, incentives, and other benefits to convince airlines of the viability of the proposed route.
Air Service Proposal: The airport prepares a detailed air service proposal tailored to the specific airline. The proposal includes information on market demand, Profit and Loss financial projections, infrastructure capabilities, and the detailed incentive and marketing package. The goal is to demonstrate the potential profitability and success of the new air service to the airline.
Incentives and Negotiations: Negotiations continue. Airports often offer various incentives to attract airlines. These incentives can include charges discounts, marketing support, revenue guarantees, discounted or free terminal facilities, and in general, a sound risk-sharing policy and assistance with start-up costs. The airport negotiates with the airline to reach mutually beneficial terms for both parties.
Airline Evaluation and Decision: The airline evaluates the air service proposal along with its own analysis and feasibility study to assess the viability of the proposed route. Other considerations, such as fleet availability, network optimisation, and profitability potential are also evaluated. The airline makes a decision on whether to pursue the new air service development.
Implementation and Promotion: the airport and the airline enter into final discussions to finalise details such as flight schedules, frequencies, marketing collaborations, cooperation schemes with tourism stakeholders. With the necessary approvals in place, the airline begins operating the new air service at the airport. In the post-launch phase, the airport and the airline closely collaborate on promotional activities to create awareness and generate passenger demand for the route. Marketing campaigns, joint advertising efforts, and partnerships with tourism boards are undertaken to promote the new service.
Performance Monitoring and Development: After the new air service is launched, the airport closely monitors its performance, including factors such as passenger numbers, load factors, revenue, and customer satisfaction. The airport and the airline work together to address any operational issues, optimise scheduling, and make necessary adjustments to ensure the success and long-term viability of the route.
Overall, attracting and maintaining new air services is a highly competitive, complex and multi-year process.
Athens Airport is known for unusual, supercreative concepts for stands, goodies and marketing at Routes. Where do you find inspiration? Which concept was the most memorable for you?
Art, pop culture, literature, comics, show-business are sources of inspiration; we also like puns a lot! As a team we like to communicate with puns, exploiting the different possible meanings of a word and many of our marketing campaign slogans have actually come from our everyday office life and communication.
One of the concepts that I really adore are "The Mastairpieces".
Famous artworks by Rembrandt, Raphael, Cézanne, Wood, Monet, to name a few, were recreated, with all the members of our marketing team being the models of the tableaux vivants reproducing the exact image of the artwork. These "living scenes" were photographed to recreate the…modern masterpieces of "The Art of Airline Marketing", exhibited in our stand, which was then transformed into an art gallery, even having its own exhibition catalogue, with each Mastairpiece being presented as a…component of "The Art of Airline Marketing".
What does sustainable route development mean to you personally?
"Partnerships for the goals".
Establish strong, long-lasting partnerships with our airlines and jointly chart our course to thrive sustainably in the Athens market.
Ioanna Papadopoulou has a diverse background in the aviation industry. She started her career with the Hellenic Civil Aviation Authority and later joined the Ministry of Transport and Communications. From there, she served as the CEO of Olympic Airways-Services SA and worked on bilateral air services agreements and international relations.
Since 2009, she has been Director of Communications & Marketing at Athens International Airport. Her achievements include receiving the "Woman of the Year" award and holding leadership positions in the Hellenic Aviation Society. She is also involved in various advisory roles and publications related to the aviation and tourism sectors.